The Music Train is extremely proud to have delivered high quality musical education to local families for 21 years. To mark this huge achievement and to re-unite past and present families and teachers, we are organising a teddy bear's picnic in the town where it all started - Welwyn Garden City. Our vision is to gather together as many families and teachers as possible and to celebrate in style, we will wear our special edition 21st birthday t-shirts, available in yellow, red and blue. With approximately 800 families attending our classes each week and thousands over the past 21 years, this event is particularly exciting as it will be the first time we have ever gathered the whole group together.

Please click on this link or the picture below to book your place and to order your celebration tickets and goody filled lunch bags.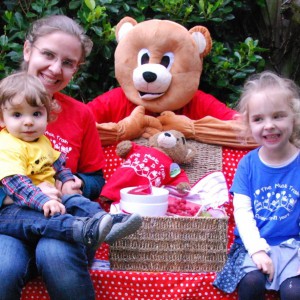 FAQs
The event will take place at 1pm on Sunday 26th June 2016 at South Side of Stanborough Park, Welwyn Garden City, Hertfordshire, AL8 6DQ.
How do I book?
The deadline for booking this event has now passed and if you have already booked, you will soon receive an email giving further information.
Why did I need to book?
Although entry to Stanborough Park is free, the venue have asked us to provide numbers in order to prepare a robust risk assessment for the event. By asking you to purchase a goody filled lunch bag to attend, we could gain an idea of attendance levels. Your ticket also entitled you to a prize draw entry, a goody filled lunch box (non-food items), a child's special edition t-shirt, a waving flag, colouring book, craft activities, frisbee, bubbles, car sticker and fridge magnet.
Is the event open to families who do not attend The Music Train?
Everyone is welcome, whether you are a family who attended in the past, a family still to attend or a family considering attending our classes in the future.Pre-booking is essential though.
What will happen on the day?
We will all meet on the South Side of the lake. You will need to walk towards the far side of the lake to find our red gazebo. Please bring your ticket stub (if purchased in class) or receipt (if purchased on-line) to our gazebo to collect your goody filled lunch bag and any other pre-ordered items. Once you have collected your items, you will be free to enjoy your picnic with your family and teddies while our life-size Tuneful Ted circulates to greet everyone. There will be some free play instruments available for children to explore (similar to those found in your normal classes) and craft activities to make your own instruments. You may also find time to explore the bubbles and frisbee contained inside the lunch bag. Dependent on parent musician volunteers, we also hope to have some busking providing background music for the event.
At 1:30 pm our parent instrumentalists will play three songs including Happy Birthday. Even if you don't play a tuned instrument, please bring along some untuned percussion instruments for you and your children to participate. Once we have sung Happy Birthday to Tuneful Ted, you will be able to collect birthday cake and a Teddy Trail sheet to help you explore some of the other aspects of the park including the North Lake, Children's Play Park, Outdoor Cafe, Boating Lake and Bouncy Castle.
How do I contribute to the flash mob and other musical entertainment?
If you can play an instrument (even to a basic level), we need your help. Please complete our form by clicking on this link to let us know which instrument you play and to what level. An Arranger is preparing simple harmonies of Teddy Bear's Picnic, Twinkle and Happy Birthday especially for our event. Once we know which instruments our parents can play, we can organise for the appropriate arrangement to be emailed to you so that you can run through it in advance. If you are an advanced player, you may be willing to provide background music during the event or busk for Tuneful Ted. We would also like to encourage school aged children currently learning instruments to participate in the flash mob or busking.
Even if you don't play a tuned instrument, you and your child can contribute to our flash mob with voice and untuned percussion instruments. Please bring them along with you.
What other help is needed?
We need a few volunteers for the day. Please let us know, using this link if you are available to offer some of your time on a rota offering first aid, dressing as Tuneful Ted meeting and greeting, marshalling or litter picking help.
What happens if it rains?
In case of rain, the event will be cancelled. Please check emails and Central Station Facebook before leaving in case we need to inform you of cancellation. If the event is cancelled due to poor weather, there will be no refund, but the items you ordered will be available for collection at your assigned local branch of The Music Train.
What should I bring with me?
A packed lunch and drinks for your party. Please be advised that goody filled lunch bags will not contain food items and the only refreshments provided by The Music Train will be birthday cake. There are refreshment stands in other areas of the park but not close by.
Your own teddy to enjoy the event with Tuneful Ted.
Picnic blanket or rug.
Push chairs or tricycles so that small legs can reach the site of the event and manage the trail easily.
Your ticket stub (if you purchased your event entry in class) or a print out of your receipt (if you purchased on-line). You will need these in order to collect your goody bag lunch box and extra items on the day.
£3.20 in cash or a mobile phone to pay for parking. (Although the venue has 500 parking places, if the weather is sunny, spaces may be limited and we cannot guarantee parking. It might be useful to research other possible places nearby where you can park. If South Lake Parking is full, it may be possible to park on the North Side and walk across to the South Side. You will need to allow a little extra time to do this. The venue is approximately 30 minutes walk away from the railway station.
Your musical instruments (if you play). Please make sure you have completed our form (linked to above) to tell us what you will bring with you.
Percussion instruments or you may prefer to use the shakers or guiros available to make at the event itself.
Cash in case you decide to purchase teas, coffees, ice creams, face painting, bouncy castle or boating lake entry.