Although many aspects of our classes remain consistent throughout a child's journey with us, to ensure progression, we have five distinctive Levels of learning that children may pass through along the way. We do however allow siblings of different ages to attend together if that is the parent's preference.
Five Levels of Learning
Please note that the age banding above is approximate as we often have to accommodate the children currently attending who do not fit always fit neatly into these age bands. However, we will always aim to band as closely as possible according to a child's stage of development.
Music Train Classes have Structure
Young children learn best when they feel safe and know what is happening. For this reason, key parts of each class are the same every time. This structure helps children to prepare themselves for the next part of the class. However, within our structure, are a great variety of activities and new experiences.
Each session starts and ends with our special hello and goodbye songs which not only ensure that every child is part of the song, but also teach tuneful singing and a regular pulse.
The Train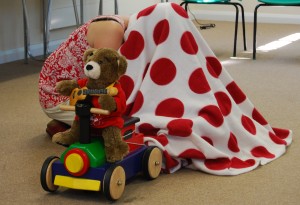 Now that all the children are attentive and eager for their music session, the music train, crammed full of musical instruments, is brought to the front of the group. If your child is aged two and upwards, they will listen carefully to the sound of the instruments hidden in the train carriage and try to guess the instrument of the week. If children have attended a while, they will often have immediate recognition of the sound, and know the name of the instrument - newer children can take slightly longer to guess.
The train then starts on its journey from child to child, and there are always more than enough instruments for mum, dad, nanny or grandparents to join in the fun as well! The children use their instruments to accompany well known songs played on the guitar, and after a good sing song, the class is relaxed and happy, ready to return the instruments to the train. The next part of the journey involves moving and action.
Movement
A lot of emphasis is placed on teaching a steady pulse and co-ordination, and during this part of the session, children will take part in moving activities, marching to a beat, action songs or maybe dancing, often using some of our beautiful props.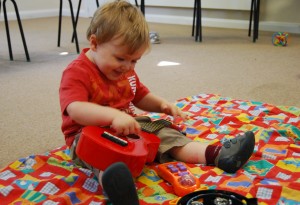 Topics
Toddlers from 12 months explore a variety of topics. These may be colours, transport, animals etc. Musical concepts, songs, listening activities and general education are presented through these exciting six week topics.
As children develop further, an advanced musical topic is added such as Brass Instruments or Music Around The World. We have at least 16 different musical topics that the children work through. If, for example, the topic is strings, a real cello and violin are brought into class for hands on exploration by each child. They will count the number of strings on the instruments and make their own pictures of instruments, sticking on the right number of strings. Higher and lower sounds will be explored listening to recordings of each member of the string family.
Key Song
It is possible for every child to learn to sing in good tune and Music Train will help your child on the way. An age appropriate key song is introduced to children over 12 months every half term and repeated each week. Parents are encouraged to repeat this song over and over at home.
Reading Notes and Rhythm Signs
Together with our more advanced topics, children will enjoy learning the basics of crotchets, quavers, minims and rests and even start to read music, building basic skills which will both help with school readiness and preparation for playing a musical instrument, if this is a desired route.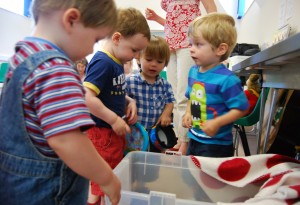 Free Exploration
Our babies and younger children break from the formal side of the session after 30 minutes, giving time for child-led exploration of instruments and topic related resources. Parents can help their child develop through play and also take time to form new friendships, possibly over a coffee. We have been told that many of these friendships formed in the early years of bringing up a child, turn out to be very special for both parents and children, even years later and bonds still remain strong.

You can find out what our parents have to say about us on our Reviews page.