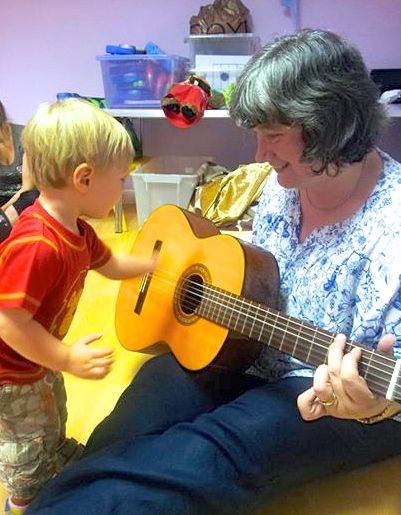 Frances Maddex
01438 821849
email: frances.maddex@musictrain.co.uk
Frances joined our team in December 2009 bringing with her 20 years primary school experience as a primary classroom teacher and more recently as a Head Teacher. Frances took a break from schools to bring up her young daughter and during this time, attended The Music Train as a parent. She was so impressed by our teaching methods, that she asked to join the team. Frances learnt to play the piano and violin whilst at school and studied music at A level. She enjoys singing and now sings with Hertford Choral Society having previously been a member of the North Herts Guild of Singers. Frances has extensive experience of music curriculum planning and teaching music in her school roles. When her daughter was younger she was actively involved in running the local toddler group and pre-school and is now a school governor at her local Primary School.
Frances has run branches of Music Train in Hatfield, and Stevenage (Roaring Meg) and has also been a regular Music Train teacher at our Great Ashby branch in Stevenage. From September 2017 she will be running both Stevenage, Roaring Meg and Hitchin Branches and is very much looking forward to getting to know our Hitchin families.
In the words of a client, "We love our Music Train teacher Frances because she makes rhythm and music fun and accessible for all ages and makes every week an adventure."
CLICK HERE FOR OUR HITCHIN NEWSLETTER SUMMER 2021
CLICK HERE FOR OUR HITCHIN NEWSLETTER SPRING 2021
CLICK HERE FOR OUR HITCHIN NEWSLETTER AUTUMN 2020
Summer Term 2021 Classes
We anticipate that this term will run as face to face covid risk-assessed classes.
TERM DATES: Tuesday 13th April - Saturday 17th July. There is a one week half term break - no classes w/c Monday 31st May
The term length is 13 weeks (£84.50 or £91 for school aged children attending the Saturday class)
| Day | Time | Age Group | Location |
| --- | --- | --- | --- |
| Tue | 9:30 | 2-4 years | Woodside Hall |
| Tue | 10:45 | 3 months - 2 years+ | Woodside Hall |
| Thurs | 9:30 | 2-4 years | Woodside Hall |
| Thurs | 10:45 | 3-24 months | Woodside Hall |
| Sat | 9:15 | rising 4 - 7 years - school age | Woodside Hall |
| Sat | 10:30 | 2-4 years | Woodside Hall |
Topics
Apr - May 2021: General Topic - Woodland; Advanced Topic - Peter and the Wolf
Jun - Jul 2021: General Topic - Colours; Advanced Topic - The scale of C
Baby, toddler and pre-school music classes take place for 0-6s at Woodside Hall, Walsworth Road, Hitchin, Hertfordshire, SG4 9SP. Woodside Hall is at the back of a large pay and display car park near the Queen Mother Theatre. There are a few free parking places close to the hall but please be advised that many of the parking places are pay and display. You need to take special care to ensure which type of parking place you have used to avoid a hefty fine.
Registration Fee
Families joining our classes for the very first time are invited to try a single session before deciding whether or not they wish to sign up for the rest of the term. If you do wish to join for the term, an additional £6 registration fee is charged for families that have never previously attended. This is only ever charged once per family and future siblings do not need to pay a registration fee. The fee covers the cost of access to our client on-line resources and one child's T-shirt. Additional T-shirts can be purchased for £5.
We regret that if classes have to be cancelled due to force majeure such as snow, or on specific medical advice, they cannot be refunded.

Hitchin, Hertfordshire Early Years Music Classes for babies, toddlers and preschoolers 0-5