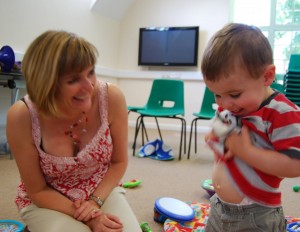 The Music Train®, formerly Tots Tunes, was founded in 1995 by mum of two, Andrea Lee. Starting with two small classes a week in her front room, the organisation rapidly expanded due to its excellent local reputation. The Music Train now teaches approximately 800 children a week in Hertfordshire and Bedfordshire, and has an affiliation in Cornwall.
With twenty years of early childhood music teaching experience, Andrea runs the Music Train Teacher Training programme and is one of a handful of teachers in UK to hold qualifications specific to music teaching in the early years. She has an MA in Education (Early Years) which she obtained after three years study at the Centre for Research in Early Childhood Birmingham, and two separate PGCEs specifically in Early Childhood Music (one specialising in the Kodaly approach). This solid academic background combined with many years of practical classroom experience ensures that The Music Train programme of teaching is constantly evolving and is based on cutting edge research.
The organisation maintains a 'not just for profit' ethos and operates a 'distributed leadership' approach. This means that our highly motivated teachers are actively involved in influencing and leading the future of the programme. The combined wealth of expertise and diversity of the team ensures that The Music Train classes offer the highest standard of early childhood music education possible, nurturing every child's innate musicality to its fullest potential.