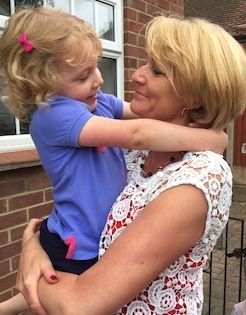 Andrea Lee
07944 759007
email: andrea.lee@musictrain.co.uk
Andrea set up pre-school music classes from her home back in 1995 when her own children were very young. Starting with just two small classes a week, it soon became apparent that her unique style of teaching had hit the spot, for the organisation quickly moved out of the home and rapidly grew. Andrea has an MA in (Early Years) and also two PGCEs specialising in Early Childhood Music (one specifically linked to the Kodaly approach). Using the best current practice and drawing from a variety of musical educational approaches, Andrea has developed our current syllabus and has personally trained each of our Music Train teachers.
As well as leading the company, Andrea teaches her own thriving classes in Letchworth and Gt Ashby. Clients (primary teachers themselves) have commented that Andrea "understands children's attention spans. Every session is hands on and interactive." "She makes classes multi sensory, fun and relaxed for everyone." Another parent recently wrote, "She makes the class so much fun, and without any effort my boys have gained fantastic music ability which is helping them in so many ways." Andrea is passionate that every child should be given the opportunity to develop their innate musicality to its fullest potential and a number of her pupils, taught over the past twenty-five years, have gone on to perform in West End shows and start careers in music.
AUTUMN TERM 2021
TERM DATES: Tuesday 14th September - Tuesday 14th December. No classes w/c 25th October. The term length is 13 weeks. New families are invited to book a single class trial before joining for the term.
We are currently running covid risk-assessed face to face classes.
| Day | Times | Age Band | Location |
| --- | --- | --- | --- |
| Tues | 09:30 | rising 2 years - rising 5 years | Gt Ashby Community Centre |
| Tues | 10:45 | 0-24 months | Gt Ashby Community Centre |
Topics
Sep - Oct 2021: General Topic - Farmyard; Advanced Topic - Stringed Instruments
Nov - Dec 2021: General Topic - Leisure; Advanced Topic - Music from Tuneful Ted's Holidays
Location
Baby, toddler and pre-school music classes take place for 0-5s at Great Ashby Community Centre, off Whitehorse Lane, Great Ashby SG1 6NH, close to Budgens store and Busy Bees Nursery. There is plenty of free parking.
Coming for the first time
Families joining our classes for the very first time are asked to try out a single session before deciding whether or not they wish to sign up for the rest of the term.
Cancelled classes
We regret that if classes have to be cancelled due to force majeure such as snow, or on specific medical advice, they cannot be refunded.

Great Ashby, Stevenage, Hertfordshire Early Years Music Classes for babies, toddlers and preschoolers 0-5