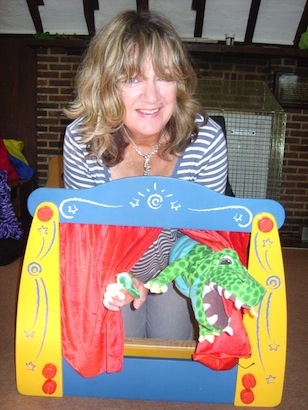 Louise Ray
01438 820981
email: louise.ray@musictrain.co.uk
Louise has been teaching pre-school music with the Music Train since 1999. She trained and worked initially as an actress, during which time she gained a London Academy of Music and Dramatic Art Teaching Diploma. Subsequently she produced radio and television commercials for a London Advertising Agency before taking a break to bring up her two children. Louise has a Montessori Teaching Diploma. When she is not teaching, Louise is involved in performances with Amateur Dramatics groups and sings with The Codicote Community Choir.
Her daughter was a chorister at Lincoln Cathedral and passed her grade 8 violin and singing exams with merit and distinction respectively. Her son was a chorister at St Paul's Cathedral, and then a music scholar at Stowe School, where he passed his grade 8 examinations in singing, French horn and piano, and grade 6 in organ, all with distinction. He later won a place to study at St John's College Cambridge where he was a choral scholar. He is now qualified as an Opera Singer.
Clients have described how Louise "always makes us feel welcome. She has fantastic interaction skills." "I've been to Music Train with each of my children .... They love it. And though my two eldest are at school they still love the odd day that they have to tag along with their little sister."
AUTUMN TERM 2022
TERM DATES: Monday 12th September - Friday 16th December. No classes w/c 24th October. The term length is 13 weeks. (Fees are £7.50 a session + a Christmas party gift supplement. New families are encouraged to book a trial before committing to the term).
Day
Age Band
Times
Mon
12-24 months
09:45
Mon
2 years - rising 5
11:00
Thur
2-3 years
9:30
Thu
0-24 months
10:30
Thu
2 years - rising 5
1:30
Fri
0-24 months
9:45
Fri
2-3 years
11:00
Contact Us/Book a Class  
Topics
Sep - Oct: General Topic - Nursery Rhymes; Advanced Topic - Chime Bars
Nov - Dec: General Topic - Teddy Bears; Advanced Topic - Keyboards and Notes
Location
Baby, toddler and pre-school music classes take place for 0-5s at The Backhouse Rooms, Handside Lane, AL8 6SZ. You will need to look for an old timber building (approximately 300 years old) with a car park enclosed by a flint wall. It is on the same side of Handside Lane as the turning for Applecroft Road. (The opposite side to The Barn Theatre and just slightly further South). There is a designated car park and free road side parking.
Booking a Trial
Families joining our classes for the very first time are invited to try a single session before deciding whether or not they wish to sign up for the rest of the term. Please complete the Contact Form to request a Trial.
Cancelled classes
We regret that if classes have to be cancelled due to force majeure such as snow, or on specific medical advice, they cannot be refunded.

WGC, Welwyn Garden City, Hertfordshire Early Years Music Classes for babies, toddlers and preschoolers 0-5