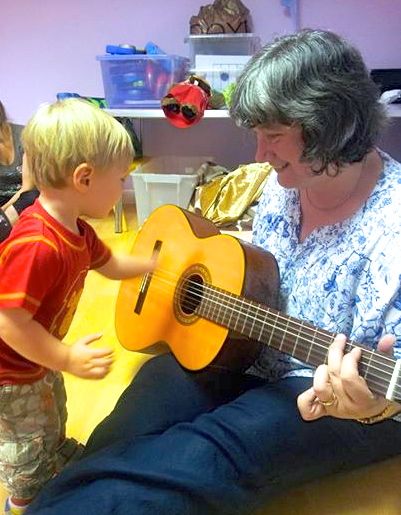 Frances Maddex
01438 821849
email: frances.maddex@musictrain.co.uk
Frances joined us in December 2009 bringing with her 20 years primary school experience as a Classroom Teacher and more recently as a Head Teacher. Frances took a break from school teaching to bring up her young daughter and during this time, attended the Music Train as a parent. She was so impressed by our teaching methods, that she asked to join the team. Frances studied piano and violin to grade 7 level and has extensive experience of music curriculum planning and teaching music in her school roles.
In the words of a client, "We love our Music Train teacher Frances because she makes rhythm and music fun and accessible for all ages and makes every week an adventure."
Summer Term 2017 Classes
TERM DATES: Saturday 21st April - Monday 17th July.
Day
Location
Age Band
Times
No classes on these dates
Price
Mon
Arts Centre
2 - 4 years
09:45-10:30
29th May
£6.00 x 12 weeks
Mon
Arts Centre
1 - 2 years
10:45-11:30
29th May
£5.50 x 12 weeks
Mon
Arts Centre
3 - 18 months
11:45-12:30
29th May
£5.50 x 12 weeks
Sat
Arts Centre
School Age - Reception, yr1, yr2
9:00-9:45
27th May, 3rd & 10th June
£6.40 x 9 weeks
Sat
Arts Centre
2 - 4 years
10:00-10:45
27th May, 3rd & 10th June
£6.00 x 9 weeks
Sat
Arts Centre
6 months - 2 years +
11:00-11:45
27th May, 3rd & 10th June
£5.50 x 9 weeks
Contact Us/Book a Class
Topics
Apr-May 2017: General Topic - The Farmyard; Advanced Topic - Stringed Instruments
Jun-Jul 2017: General Topic - Leisure and Holidays; Advanced Topic - Instruments and Music from Tuneful Ted's Holidays
Location for classes
Baby, toddler, pre-school and key stage 1 music classes take place on Mondays and Saturdays in The Community Arts Centre, Roaring Meg (next to Costa coffee shop), Stevenage, SG1 1XN.
Registration Fee
Families joining our classes for the very first time are invited to try a single session before deciding whether or not they wish to sign up for the rest of the term. If you do wish to join for the term, an additional £6 registration fee is charged for families that have never previously attended. This is only ever charged once per family and future siblings do not need to pay a registration fee. The fee covers the cost of access to our client on-line resources and one child's T-shirt. Additional T-shirts can be purchased for £5.
Cancelled classes
We regret that if classes have to be cancelled due to force majeure such as snow, or on specific medical advice because of the risk posed by swine flu, they cannot be refunded.

Stevenage, Hertfordshire Early Years Music Classes for babies, toddlers and preschoolers 0-5